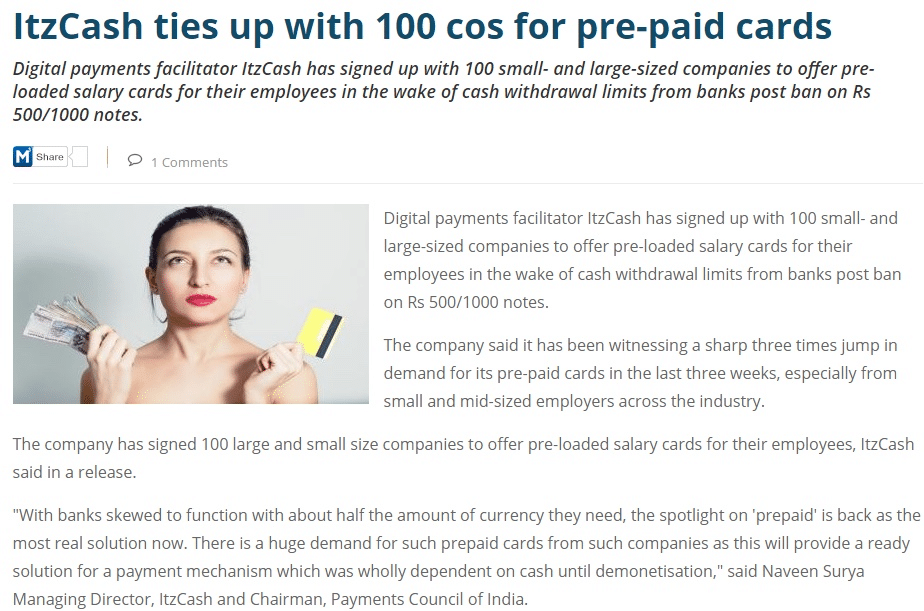 ItzCash ties up with 100 cos for pre-paid cards
Digital payments facilitator ItzCash has signed up with 100 small- and large-sized companies to offer pre-loaded salary cards for their employees in the wake of cash withdrawal limits from banks post ban on Rs 500/1000 notes. The company said it has been witnessing a sharp three times jump in demand for its pre-paid cards in the last three weeks, especially from small and mid-sized employers across the industry.
The company has signed 100 large and small size companies to offer pre-loaded salary cards for their employees, ItzCash said in a release. "With banks skewed to function with about half the amount of currency they need, the spotlight on 'prepaid' is back as the most real solution now. There is a huge demand for such prepaid cards from such companies as this will provide a ready solution for a payment mechanism which was wholly dependent on cash until demonetisation," said Naveen Surya Managing Director, ItzCash and Chairman, Payments Council of India.
Surya said the industry so far has sold more than five million of these cards and in the last one week, and 40 million more are expected to be sold through end of this fiscal.
ItzCash pre-paid card is a multi-purpose and interoperable instrument that is an ideal fit for both the employer and employee classes across the industry, the company said. It is catering to a wide range of small and medium-sized companies engaged in services like staffing, facility management, and security services among others who were solely dependent on cash for salary disbursements until demonetisation, ItzCash said further.